The Nokia 2300 is a unique Nokia mobile phone and had a unique Soundfont for ringtones. Introduced in August of 2003, and released in January 2004.
It has mainly .nrt monophonic ringtones, and five .mid polyphonic ringtones, which includes an exclusive polyphonic version of Nokia tune that is not on any other phone. In the manual, the polyphonic ringtones were claimed to be "in a proprietary format and not downloadable", however they are in MIDI format. This phone also has a phone book for up to 50 contacts, a call history of dialed, missed and received calls (10 for each), a 4 line monochrome display, FM radio, changeable Xpress-On covers, three games (Snake II, Space Impact+, and Opposite), and had a calculator, a stopwatch.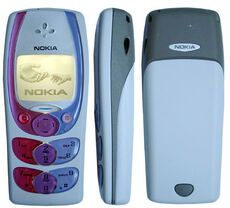 List of Ring Tones
[
]
Polyphonic ringtones will be Bold. Monophonic ringtones are in the .nrt format, while the polyphonic ones are in .mid format. Some phones had them as just "Type (number)", with Types 1-5 being the polyphonic ringtones in alphabetical order, and 6-36 being the monophonic ringtones in order.
Attraction
Bee
Bumpy
Bureau
Burr
Caprice
Croak
Cuckoo clock
Do-mi-so
Espionage
Fly
Fool about
Funfair
Groove
Hummingbird
Intro
Jester
Jumping
Low
Luminosity
Mexican Hat Dance
Modem
Nokia tune
Polite
Polska
Ring
Ring ring
Rise n' shine
Robo N1X
Rote
Sanguine
Streetwise
Tap dance
That's it!
Tingle
Tweet