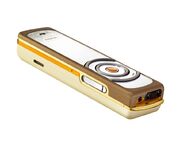 This year, Nokia 7390i has more features:
attractive design
solid construction
especially fine display
advanced voice dialing
3.15 MP Camera with flash
Internal memory up to 56 MB
microSD card slot expansion up to 32GB
MP3/WAV/AAC player
FM Radio with RDS
HD sound
Easy to dial and typing messages
3G supported
Nokia is a company, which can take liberty to experiment. And it does. The 7380 model looks like a chocolate bar. Instead of a display it has a small mirror, instead of a keypad - a scroll wheel. On the side of the device Nokia has attached a fabric logo, similar to the ones we see on luxury T-shirts. At the same time Nokia 7380 is a very good mobile phone with operational system that is not so difficult to get used to.
Nokia 7380 is a glamorous jewel of a unique construction, but can it be used as a normal phone device? Is control without a numeric keypad possible at all?
Well, I won't hide that handling this Nokia 7380 cost me certain trade-off moves. If you write a lot of SMS, then you should forget about this phone straight away as text writing is a nightmare. But if you write one SMS per day or even less, then you can manage with it quite well. Writing is assisted by a technology that slightly reminds T9 dictionary. Any phone number's 9 numeral characters can be dialed relatively fast too. In addition, the phone offers an excellent voice dialing option and doesn't need to be taught in advance.
To sum up, Nokia 7380 is usable. The problem is that the more stylish and exceptional a phone is, the more practical inconveniences it brings with it.
Price: from P 8,500.00 to P 11,000.00