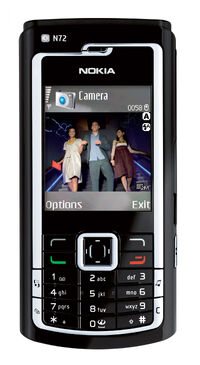 The Nokia N72 is one of Nokia's high-end Nseries mobile phones, it is effectively a re-branded Nokia N70 with a reduced feature set. For an Nseries phone its features are quite limited, as it has only a 2MP camera, and runs on Symbian 8.1a operating system.
The N72 is based upon the N70 and is actually a remake of the N70-5 but was redesigned and is targeted at the mass market just like its prior model the N70-5 by the removal of the 3G hardware, making it much cheaper. However, it retains the same edition of the Symbian OS as the N70, as well as a similar set of features.
The Nokia N72 is a feature-rich phone with a 2 megapixel camera, a built-in flash, FM radio, Bluetooth 2.0, digital music player functionality and support for 3D Java games. It also sports Bluetooth 2.0 and USB 2.0 - Pop-Port interface.
It uses the S60 user-interface and the Symbian 8.1a operating system. It is available in two colors namely glossy black and pearl pink.
External Memory
The N72 uses Dual-Voltage Reduced Size MMC (DV-RS-MMC) cards which are also marketed as MMCmobile. These cards should not be mistaken as RS-MMC cards, which have only 7 contact pins but with the same size. The user memory for Nokia N72 is expandable up to 2GB.
Specification Sheet
| Feature | Specification |
| --- | --- |
| Form factor | Candybar ("Monoblock") |
| Operating System | Symbian OS (8.1a), S60 Second Edition Feature Pack 3 (v2.8) |
| Processor | TI OMAP 1710, ARM9 32-bit RISC CPU @ 220 MHz |
| Memory (RAM) | 53MB |
| Memory (PHONE MEMORY) | 20MB |
| GSM frequencies | 900/1800/1900 MHz |
| GPRS | Yes, class 10 |
| EDGE (EGPRS) | Yes, class 10 , 236.8 kbit/s |
| WCDMA | yes, class 10 |
| Main screen | TFT Matrix, 262,144 colour |
Template:Nokia phones