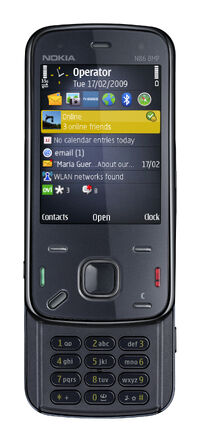 The Nokia N86 8MP is a Symbian Series 60 mobile phone. One of its main selling points is its photography features.[1]
It is Nokia's first camera phone to have an 8 megapixel sensor, and features both multiple aperture settings and a mechanical shutter (uncommon features by the standards of camera phones), and a Carl Zeiss lens with a wide angle of view (28mm equivalent). It also has auto focus and a dual LED flash (3rd generation dual-LEDs),and an AF assist light. Video capture resolution is 640 x 480 pixels (VGA) at 30 frames per second.[2]
The N86 8MP has a toughened glass front cover and metal detailing. It is similar in specification to the Nokia N85, with a 2.6-inch OLED display and the "dual-slider" form factor.[3][4]. It also has the same kickback stand so it's possible to use as a small standalone screen, and it's possible to configure the opening of the stand to launch applications such as the video player.[5]
The N86 8MP is a 3.5G device with dual-band HSDPA support, quad-band GSM and Wi-Fi. It has an A-GPS receiver, which links into location-based services via Nokia Maps, and photographs can be automatically geo-tagged. There is also a built-in digital compass, and FM radio, and there is also a FM transmitter. It is rated to give 6 hours talktime, 25 hours music playback and 11 days on standby on a full charge.[2]
It has already been released for a price of about S$700 (EUR 350) in Singapore and Malaysia.
Digital TV
Edit
With optional DVB-H Nokia Mobile TV Receiver SU-33W it is possible to watch television on the screen of the phone.
External links
Edit
References
Edit
Cite error: <ref> tags exist, but no <references/> tag was found