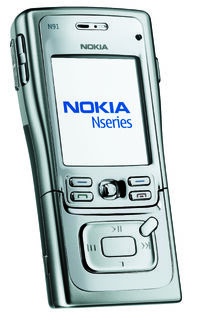 The Nokia N91 is a mobile phone that was released to the public in April of 2006. It is part of the Nokia Nseries range of mobile phones. It features a 2-megapixel camera and a 4GB (8GB in the "new" 2006 version) hard disk to store approximately 3,000 songs encoded in either AAC, AAC+, eAAC+, MP3, mp3PRO, WAV, MIDI, or Microsoft's WMA format. It also features 3G and wi-fi technology. The phone features a 176 x 208, 262,144 colours TFT LCD display and dedicated music functionality buttons (XpressMusic) that slide down to reveal traditional mobile phone keys. Battery life when solely playing music has been estimated at 12 hours.
In the adverts for the phone it was stated that because of its 3.5 mm plug input, Nokia recommends quality headphones made from Bose and Sennheiser.
An 8GB variant, internally known as N91-2, was also released. It is essentially the same phone as the N91, other than an 8GB hard disk and some minor improvements.
Operating System
[
]
The phone features a new version of the Symbian Series 60 Operating System. It was the first phone with this version (Symbian version 9.1, Series 60 version 3.0). The new version is needed for the support of a mechanical hard disk. In the past, the version of the Symbian operating system has been a good indicator of CPU speed.Template:Citation needed The phone also comes standard with a full web browser.
Problems and Criticisms
[
]
There have been a few problems with the N91, namely connecting the phone to a Macintosh computer. This will often cause the phone to crash as the two units are disconnected and music files are often not recognised despite being loaded into the phone's hard drive. Also, in old firmware versions, when you install a new theme, it will reset itself back to the default theme. Users can update the firmware using Nokia's PC Suite.
In the Philippines, there was an incident involving an N91 being used with one of Nokia's 46 million recalled BL-5C lithium-ion batteries[1], and exploded as a result.[2]
In popular culture
[
]
The N91 was the phone used by Bryan Mills (

Liam Neeson

) in the 2008 film Taken.
References
[
]
Template:Reflist
External links
[
]
Template:Commonscat
Reviews
[
]
Template:Nokia phones