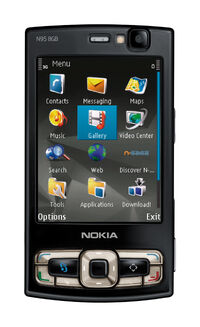 A revision of the N95, called N95 8GB (N95-2, internally known as RM-320), was announced on August 21, 2007, and put on market in October 2007[1].
The changes compared to the regular version are:
Improvements
Edit
8 GB separate internal memory
Larger display (up from Template:Convert to 2.8").
128 MB RAM (up from 64MB), 95MB available.
Demand paging (although the N95 supports this too, since firmware version 20.0.015[2])
1200 mAh battery (BL-6F), up from 950 mAh
Cosmetic changes to media and front-panel buttons
New multimedia menu, with Nokia's Ovi content integration
Built-in Automatic Screen Rotation (ASR) in software versions v20.0.016 onwards for the N95 8GB version and from v30.0.015 for N95-1, respectively.
Black faceplate instead of the original silver.
Negative changes
Edit
Pixel density is 142 dpi, compared to 153 dpi for the N95; this is due to the larger display but with the same resolution (QVGA)
MicroSD slot removed
Slider protecting camera lens removed to make room for the larger battery; the camera application is now started by holding down the shutter release button
Removal of built-in video editor (later added with the firmware upgrades)
Mass: 128 g, up 8 g from 120 g
Versions comparison
Edit
This table lists only the specifications that differ between versions of the N95 models. (Most details in this table are from [5] [6] [7].)
Feature
N95
(N95-1)
N95 8 GB
(N95-2)
N95 NAM
(N95-3)
N95 8 GB NAM
(N95-4)
N95 CHINA
(N95-5)
N95 8 GB CHINA
(N95-6)
Internal name
RM-159
RM-320
RM-160
RM-421
RM-245
RM-321
Release date
March 2007
August 2007
November 2007
January 2008
February 2008
February 2008
WCDMA frequencies
2100 MHz
850/2100 MHz
850/1900 MHz
850/1900 MHz
none
none
WLAN connectivity
yes
yes
yes
yes
no
no
Internal Dynamic Memory (RAM)
64 MB
128 MB
128 MB
128 MB
128 MB
128 MB
Internal Flash Memory
160 MB
8 GB
160 MB
8 GB
160 MB
8 GB
Memory card slot
micro SD/SDHC
none
micro SD/SDHC
none
micro SD/SDHC
none
Battery
950 mAh
1200 mAh
1200 mAh
1200 mAh
1200 mAh
1200 mAh
Talk time (GSM)
4 hr
5 hr
5 hr
5 hr
5 hr
5 hr
Standby time (GSM)
9.3 days
11.6 days
12 days
12 days
10.5 days
12 days
Screen
diagonal 2.6"
diagonal 2.8"
diagonal 2.6"
diagonal 2.8"
diagonal 2.6"
diagonal 2.8"
Mass
120 g
128 g
124 g
128 g
124 g
128 g
Camera lens cover
yes
no
no
no
yes
no
See also
Edit
References
Edit
External links
Edit
Cite error: <ref> tags exist, but no <references/> tag was found
Community content is available under
CC-BY-SA
unless otherwise noted.